A fire department's community risk reduction (CRR) program has the potential to significantly reduce fire incidents and save lives. Yet despite admirable efforts and dedication, many departments are unable to make a lasting impact due to traditional CRR programs being insufficiently agile for today's rapidly changing world.
A community risk reduction program aims to reduce the likelihood and impact of risks like fires and industrial incidents, preparing the community to respond to and recover. From public education and outreach to emergency planning and response training, these programs can save many more lives than suppression or emergency response efforts alone.
However, limited resources, inadequate information sharing, and outdated outreach methods are hindering the effectiveness of many CRR programs. As a result, departments are struggling to reach their goals as their communities face increasing risks.
Thankfully, more departments are embracing technology to digitally transform their CRR programs with cutting-edge software solutions, designed specifically for fire departments.
By leveraging advanced data analytics, streamlined communication tools, and innovative outreach channels, you can overcome these challenges and run a program that gets results — without straining your budget.
How the right software solves the business challenges of running a great CRR program
Key aspects of CRR programs are often neglected for a variety of reasons, typically for lack of resources or relevant training. Yet something as simple as running a good educational program can decrease fires by over 60 percent, saving countless lives, and easing a department's workload for other CRR initiatives.
Yet much of a program's success is limited by simple business challenges, from inadequate funding to inefficient workflows that drive up costs. How can a program succeed when a dollar only goes so far?
By leveraging software in your CRR program, you eliminate or reduce these issues, all while protecting the community and positioning your department as an innovative leader in public safety.
Of course, technology is not a magic wand. So what kinds of CRR program challenges can software address?
Lack of funding and resources
Insufficient budgets and resources can hinder the development and implementation of comprehensive CRR programs, leading to difficulties in allocating funds for training, education, and equipment.
By automating processes with software, fire departments can streamline workflows, reduce manual processes, and optimize resource allocation. Not to mention, cash-saving practices like cost recovery become much easier to manage.
From finishing inspections in a fraction of the time, to quick and painless permit approval, software can eliminate workloads that would otherwise leave your team stretched thin.
Difficulty in measuring success
Fire departments may face challenges in collecting, analyzing, and leveraging data to support their CRR initiatives — whether due to limited technical expertise or outdated tools.
Quantifying the success of CRR programs can be challenging, as the results are often intangible, such as number of incidents prevented or lives saved.
The Reporting & Analytics features of the 3Di Engage platform enables fire departments to track their prevention activities and monitor trends, making it easier to measure the success of CRR initiatives and justify investments in prevention programs.
With digestible data visualization and actionable insights to inform policy decisions or choose better public education initiatives, analytics tools are a game changer. The Property Inventory database also provides a complete and accurate inventory of properties in a jurisdiction, allowing for targeted risk assessment and simpler mitigation.
Internal resistance to change
Switching to a new way of working can seem intimidating. Fire department personnel may resist the shift from a traditional suppression-focused approach to a more proactive, prevention-oriented CRR strategy.
Digital transformation is easier to sell to a team than you might expect. Aside from all the time savings on inspections, communications, and otherwise-repetitive tasks, you can now use data to prove the effectiveness of the switch.
For instance, with the reporting and analytics capabilities of the 3Di Engage platform, departments get real-time insights into prevention activities and trends, so it's easier to demonstrate the value of CRR initiatives and encourage buy-in from both personnel and other stakeholders.
Moreover, the software's comprehensive fire code management tools allow for easy access to (and understanding of) local and regional codes, making every inspector's job easier.
Collaboration with external stakeholders
CRR initiatives often require partnerships with other organizations, such as local governments, businesses, and community organizations. With traditional systems, much of the work and data is siloed in each department or bureau, making it difficult to work together across teams or organizations.
A modern software platform allows you to easily collaborate with internal and external stakeholders, connecting your databases to share information as needed, and even connect with third-party testers to supplement inspections.
Engaging the community
Fire departments may struggle to develop and implement targeted outreach strategies that effectively reach and resonate with diverse audiences.
So how can you quickly get the word out about important updates? How can you effectively handle permits or complaints with limited time?
A publicly accessible citizen portal offers a centralized spot for community members to access resources, file complaints, request permits, receive notifications, and make payments. This makes it easier for the public to look up important information, make requests that are processed quickly, and get notified about everything from permit approvals to urgent community updates.
Balancing competing priorities
Fire departments must often balance the need for effective CRR programs with their traditional emergency response and suppression duties. This is tricky, because putting out a fire has a much more obvious and immediate impact than teaching the public how to avoid starting fires in the first place.
Yet, as we mentioned earlier, proper education can drastically reduce the number of fires that start in the first place, and reduce the total damage done when fires do happen.
The right software platform will allow departments to complete many more of the emergency prevention and risk reduction activities mentioned above, which has a twofold effect: less time is required to work on key risk reduction tasks, and better risk reduction leads to fewer emergencies or suppression activities in the first place.
Instead of choosing between suppression and prevention with your resource allocation, now you can do both at once.
An example of community risk reduction done right
Software can do so much for CRR, but how are people actually using it? Let's take a look at the State of Ohio.
The Ohio State Fire Marshal was ready to modernize their risk reduction programs, from better education to more efficient investigation and code enforcement.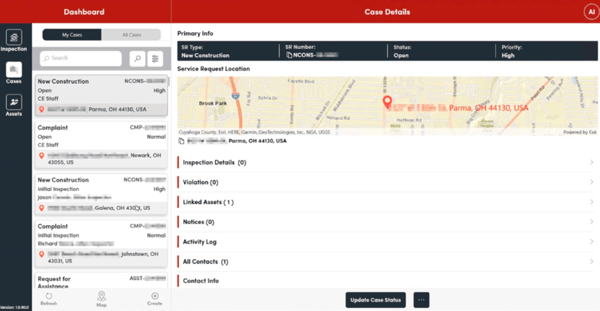 They wanted to set a high standard for keeping Ohio residents safe and didn't want to let legacy systems stand in the way of the massive scope of their responsibilities. They decided to turn to 3Di.
To learn what happened next, read how 3Di helped the Ohio State Fire Marshal manage and enforce the Ohio State fire code with a custom platform solution, including managing inspections for over 5,000 facilities.