With intuitive checklists, more capabilities in the field, and less paperwork, fire inspection software helps inspectors do their jobs better and faster than ever before. But there's one thing that separates okay inspection software and the best inspection software: good data.
Having accurate, up-to-date data is critical when it comes to the people, places, and processes that are involved in your inspection program. Consider the following examples:
An inspector shows up to a property for an inspection without realizing that another inspector was just there last month. Or, a property owner is escorting an inspector around a property and the inspector struggles to pull up a notice that was sent to the owner when asked about it. Both of these situations are more than just embarrassing for the inspector—they also waste time and risk damaging the reputation of the entire inspection program.
And the importance of good data goes far beyond a single inspection. Learning to use your data effectively can result in huge cost savings, a more productive workforce, and a stronger case for securing funding, for starters (more on all that later). The best fire inspection software will help you collect and manage all the data you need, then make that data easy to work with. Before we dive into how, let's establish the different types of fire inspection data we're talking about.
The Types of Data Used for Fire Inspection Software
The data involved in fire inspection programs can be organized as three steps of a continuous cycle:
Pre-Inspection Data

Inspection Data

Post Inspection Data: Program Statistics, Analytics, and Reporting
Pre-Inspection Data
Having high-quality data is essential to achieving the goals of your program, even before you make any initial inspections. Let's use a typical fire prevention program as an example (one which annually inspects residential rental properties).
Consider inventory, for instance — what types of residential rental properties are in my program? Where are they located? What are the addresses of these apartments? How many apartment units are in my inventory? What's the best contact information for inspection notices, enforcement, and cost recovery?
Having easy access to that data and high confidence in its accuracy can make all the difference in the quality and efficiency of your inspections and code enforcement once inspectors are in the field.
Inspection Data
Inspection data is the information gathered at the time of the inspection. It often includes things such as who you met with, what was inspected, and what the inspection revealed. Easy collection and storage of this data is essential.
Post-Inspection Data: Program Statistics, Analytics and Reporting
Post-inspection data centers around the overall progress and status of your program. This involves statistics for each inspector (productivity, workload, customer service metrics), scheduling and prioritization, and administrative data like scheduling and invoices.
Then comes analytics and reporting. If you've ever had to justify an inspection program budget, or figure out how many inspectors are needed to complete an inspection cycle, you're already familiar with the fact that how the data is stored and presented can make a huge difference in the insights you can get from your program, and how much effort it takes to get them.
To perform any of these data management tasks well, having a strong automated system for collecting, storing, and reporting this data is critical. That's where 3Di comes in.
How 3Di Engage for Fire Prevention helps you collect (and use) quality data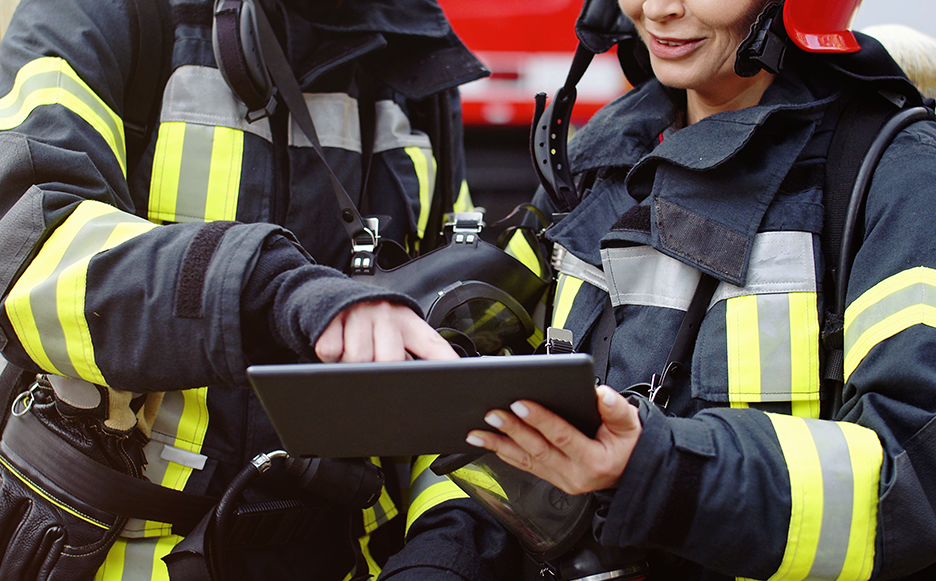 3Di offers a comprehensive, state-of-the-art fire prevention solution for inspections, permitting, process automation, reporting, and more. This platform streamlines the way you work, allowing for better data collection, faster work processes, and better public engagement.
Real-time data collection and updating
Having an automated system results in real-time data sharing, better managed fire prevention programs, and the achievement of fire prevention program objectives.
Here's how it works: inspectors can run their inspection with our app on a mobile device or tablet. As soon as they complete their inspection, 3Di Engage uploads the data collected in real time, so it's synced with the whole system and accessible anywhere. All of this updates simultaneously:
Dashboards for chiefs, fire marshals, inspectors, administrative assistants, and the property owners
Statistics for the entire fire prevention program
Program-wide charts, graphs, reports
Any program financials and associated calculations
The inspector's stats, such as metrics productivity, workload, aging cases, and any customer service KPIs
Data at the property and case levels
Automated notices, educational outreach materials, calendaring of the next inspection, invoice generation, and more
Automated owner of record updates from reliable sources
3Di Engage sources ownership information from your county tax assessor's systems, and then we update that consistently to get all owner-of-record data, allowing you to easily send notices and build a case in the event it goes to court. You never have to go elsewhere to find a property owner's contact information or worry about having outdated details.
Data becomes inclusive of the public
Program participation is improved when you promote interactive communication between property owners and your fire agency. When your data is accurate and up to date, you have the option to share key info with the public, and 3Di Engage enables that. Our site licensing model encourages everyone in the community to participate in your program: it shares data, and issues notices, assessments, and documents (as you allow) with property owners and the public.
Better speed and efficiency for data access
With 3Di Engage, you can make 12 inspections in the time it normally takes to look up the owner for a single property.
Without the right tools, any inspectors will spend a full day in the office preparing for a second day in the field inspecting, followed by a third day (back in the office) following up on administrative tasks after the inspection.
3Di automates the entire process in the field and the office, cutting this workload drastically.
Faster inspection prioritization: having your entire property inventory with the owner of record data preloaded on your tablet or smartphone allows an inspector to select properties and associated data quickly and easily.
Faster legal notices and assessment documents: 3Di automatically populates notices with the owner of record and the persons in control of the property, along with addresses, and even includes GIS mapping with property lines. Property owners can receive notices on their smartphones at the completion of the inspection.
Faster code reference: common violation lists of relevant code sections are displayed on the smart device. These focused common violations lists are specific to what is being inspected, which saves time, improves consistency, and speeds productivity.
Instant data for management to see: all this information flows to the server database in real time, so fire agency management can see the improved productivity immediately. There's no longer any hassle of reminding an inspector to submit their report (or even to finish the inspection at all).
Easier data collection, analysis, and reporting for program improvement
For over 20 years, 3Di has worked with fire professionals, and we've learned a thing or two. As part of our implementation process, we help you identify the data points to be collected and mandated by the ordinance or law. We build data points into your work processes to support your workflow, and produce real-time data, showing you useful statistics and generating automated reports.
Prioritization — you can take data such as the total number of properties in your program, the number of inspection notices mailed, or number of completed initial inspections, and use this info to make smarter decisions. By applying your fire prevention inspection program priorities to quality property inventory data, you can prioritize which properties are inspected first, second, and so on.
Staffing and resource allocation — using quality data for automated reports allows you to see metrics like the number of properties inspected in a day, the average time per inspection, and travel time, and use this information to determine staffing needs more easily.
Budget requests — Preparing an annual budget isn't really annual: it begins by gathering data daily, weekly, and monthly, and the data must be consistent and relevant at the inspection, case, and property levels. By collecting quality data daily, automated reports can be developed. Those reports are analyzed to develop and make it easier to justify your annual budget requests.
Generating graphics and reports — pictures, images, and graphics are an important form of data. These visuals are useful in communicating code violations and their locations, and are easy to whip up from a robust online dashboard. They can also be useful as educational materials.
When you have high quality data about the people, properties, and processes in your program, and a platform to help you analyze and interpret it all, you can make substantial improvements—from how an inspection is conducted to where and when they're done. With analytics and reports for your inspection program, you can establish goals and measure your progress in meeting them.
With 3Di Engage for Fire Prevention, you're empowered to collect and use better quality data at every stage of inspections, creating a more cost-efficient program that drives stronger and more measurable results.