Whether you're managing evictions, inspections, or affordable housing programs, you have a lot of moving parts to deal with — and plenty of stakeholders involved. Couple that with missing information, disparate systems, and poorly organized databases, and things get complicated quickly
Rather than managing housing programs with a chaotic system, you may want to consider adopting a centralized rental registry system, These systems provide a solid foundation of accurate, up-to-date, and complete information that any relevant party can access.
But what does that mean exactly? Rental registries provide a convenient, safe, and secure system for property owners to register their rental properties with the city, making housing program management simpler than ever.
A centralized rental registry offers property owners the ability to update important data (such as property manager and owner contact information), access their government-issued notices and forms, report vacancy rates, and pay fees online — all in a single platform.
With a centralized rental database like this, you can store and manage all your rental property data with ease.
The most effective rental registry systems will also provide you with useful insights to get the most out of the data in front of you, with simple and intuitive reports and visualizations.
Let's take a closer look at how you might benefit from using a centralized rental registry system.
The benefits of a centralized rental registry system
1. Increased efficiency
A centralized rental registry system can help increase the efficiency of your rental operation by allowing you to monitor all rental housing inventory from one central place. This can save you time and money by reducing the need to duplicate data entry, or check accuracy of those entries.

No more elusive data: with a centralized rental registry system all of your rental data is in one place. This eliminates the need to search for data across multiple systems or worry about data being lost, siloed, or downright inaccessible.
Faster workflows: you can streamline a lot of cumbersome tasks with automation. You can also automate notifications for completed tasks or new information, so you don't need to regularly dig around to check progress on tasks.
Fewer errors: since you have a single source of truth for data (that gets regularly updated by property owners), you don't have to worry about inconsistent or outdated data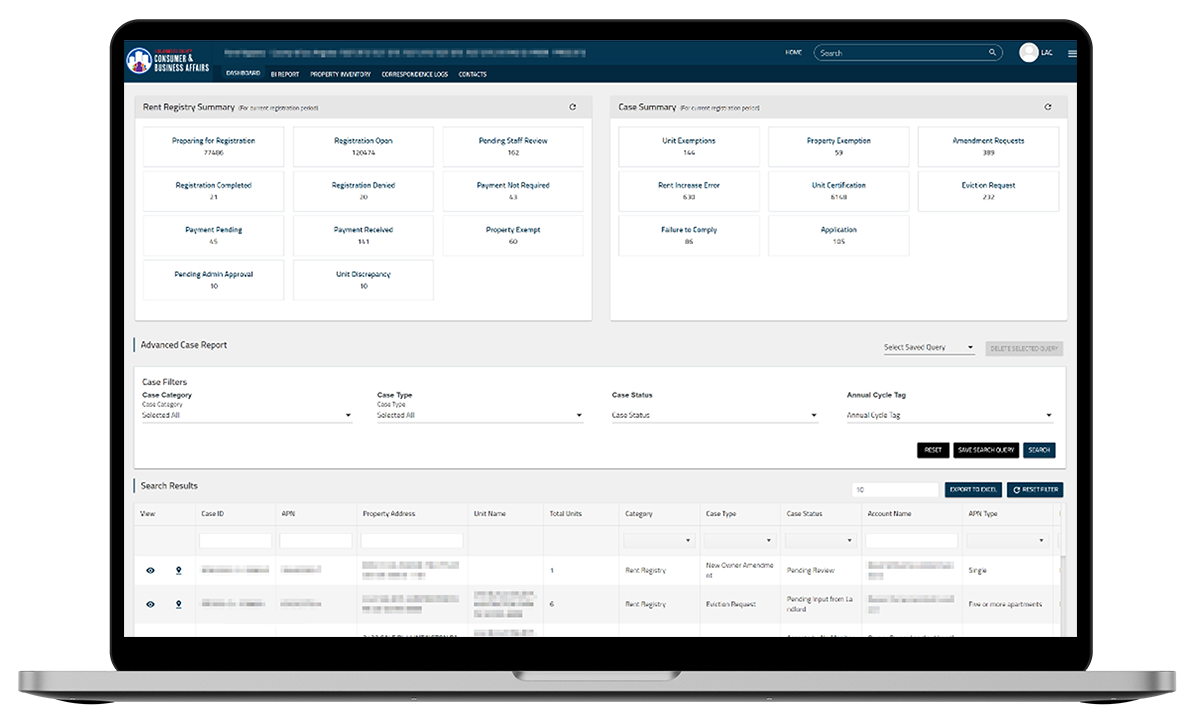 2. Improved service and satisfaction for both tenants and landlords
What if you could make sure landlords always gets accurate, relevant information to help them do their jobs, while making sure tenants get the transparency they deserve?
Consistent information: a centralized rental registry system can help improve your customer service by providing a unified source of information for everyone. Clarity like this can help reduce confusion and frustration, and make it easier for all parties to find the information they need. This means you can easily get in touch with citizens when needed, inspectors can quickly pull the information they need while on-site, and you can easily access the history of interactions in the event of a dispute.
Faster and clearer alerts: with a centralized cloud system, you have the ability to automatically alert property owners to any relevant updates or issues, as quickly as you need to. Since you'll have data such as their neighborhood and the number of units in each landlord's building, you can set up custom notifications based on useful criteria. That means property owners can learn about any changes to housing codes and other local laws that might affect them, without messages being lost in the noise.
Clearer expectations: with all this in place, landlords no longer have to feel overwhelmed or lost trying to navigate the complex (and sometimes inconsistent) maze of information and expectations from the city. Plus, they can view invoices, receipts, lease information, and forms, without having to remember where everything is.
3. A fairer market for both tenants and property owners
Having better communication and a single source of truth for important information makes life easier for everyone involved. That goes for tenants, landlords, and housing managers, too.

Fairer rental practices for tenants: The monthly median asking rate for unfurnished apartments in the US has increased

by nearly 50 percent

since 2008. But are all these increases deserved? With a central rental registry, you can easily oversee any rental increases to ensure they're in line with any rental stabilization ordinances your community may have and keep tabs on the state of housing affordability and availability in the area.
Fairer market for landlords: centralized registry systems

benefit landlords too

. For one, it makes the market more fair for good landlords, so they don't need to drive their prices down to unreasonably low rates simply to compete with other landlords who take unethical shortcuts.
More transparent case management: For housing managers, transparency like this makes case management much easier. You can improve visibility of evictions to ensure just cause, and implement proactive policies to protect tenants and landlords alike. A central hub simplifies the processing and tracking of exemptions, ownership updates, and more.
3. Reduced costs
A centralized rental registry system can also help to reduce the costs of your housing programs by eliminating the need to purchase or maintain multiple applications. This can save you money in the long run by reducing the need for duplicate software or excess maintenance.
And, with built-in online payment systems, it becomes simple to charge standard fees where appropriate to recover program costs.
Further, the efficiency improvements mentioned above mean you're wasting less time on mundane tasks (such as finding and communicating information to the people who need it), and you're able to direct your efforts towards making a greater impact in the community.
4. Improved compliance with housing ordinances
Making updates to workflows or case management can be a pain in the face of new ordinances, regulatory updates, or related changes. With a centralized system, you can easily make the updates you need.
To avoid causing extra hassle and friction for property owners, any decent registry should provide an intuitive customer portal. This makes it simpler for them to stay in compliance and gives you the data you need to uncover compliance issues in real time.
As a housing manager, you can more effectively administer your rent regulation and stabilization programs, simplify inspections and code compliance, and manage financing for affordable housing projects.
Is a centralized rental registry system right for you?
A centralized rental registry system can mean a huge reduction in your workload, while still improving the accuracy and visibility of your data. With all the data you need at your fingertips, you can streamline everything from inspections to affordable housing standards, and you can help keep everyone on the same page about rentals, ordinances, and other relevant knowledge.
More transparency and consistently accurate information means you can increase fairness for everyone who's using the system, from better market pricing for landlords to tenant rights protection.