Government leaders are constantly seeking new and innovative ways to engage with their communities more effectively. However, many traditional methods of community engagement may no longer be as efficient as they once were, resulting in low levels of participation, a lack of transparency, and even community disapproval of government projects
These problems can lead to mistrust and a lack of support for government projects, which can ultimately result in unsuccessful or ineffective initiatives. Moreover, traditional methods of community engagement can be time-consuming and resource-intensive for government staff, leading to inefficiencies and seemingly endless timelines.
Adopting modern digital community engagement tools can help governments overcome these challenges. With digital tools, governments can engage with a broader range of community members, increase transparency and accessibility, and speed up most processes for both community members and government staff.
Digital community engagement upgrades: what would help most?
Digital solutions have proven to be more effective and efficient for governments looking to engage with their communities. In 2023, digital tools are enabling governments to build trust, improve project outcomes, and deliver more efficient services.
But choosing how to upgrade will depend on what your city wants to accomplish. To understand what types of upgrades you want to make, it helps to know what kinds of tools you have available to you.
Pico Rivera, California, is a great example of how a city improved their ability to handle service requests through multiple software applications and platforms by deploying the 3Di Engage platform for Service Request Management. This platform helped streamline operations, generate reports, and improve mobile capabilities for staff and the public.
The city also implemented a Virtual City Hall, which has improved transparency and provided a high-quality, user-friendly virtual experience when engaging in civic processes.
As we move forward into 2023, what kinds of digital solutions might benefit your government the most?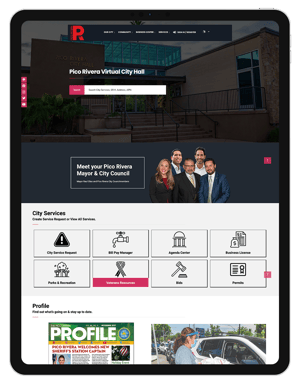 5 examples of digital tools to upgrade your community engagement capabilities
Online Portals for Citizens and Government Staff (Web & Mobile)
A public online portal with web and mobile capability provides citizens with convenient 24/7 access to resources and requests via an intuitive web and mobile portal designed for ease of use, efficiency, and security.
For example, you could use an online portal to allow citizens to report non-emergency issues, such as graffiti or broken streetlights, even from their mobile devices. This would allow citizens to report these issues quickly, easily, and accurately — all while helping your city to prioritize issues and coordinate its responses, allocating resources more effectively, such as with smarter scheduling for repairs when workers are already in the area.
Service Request Management Tools
As mentioned with Pico Rivera, Service Request Management tools can help you manage and respond to service requests from the community more efficiently. These tools typically include features such as automated routing, alerts, and tracking to streamline the process and improve response times.
A Service Request Management tool can help you to improve your response to reports of potholes in the road for instance. By automating the process and tracking the status of each request, you can further establish local leadership as responsive and efficient.
Feedback Heat-mapping Tools
Mapping community feedback allows you to collect recommendations and ideas from the community by asking them to pinpoint areas on a digital map where they would like to see changes made. You can then use this feedback to inform your planning and decision-making processes.
For example, you could use a heatmap tool to gather feedback on a proposed new park or playground in your city, then see which areas are getting the most support for certain types of changes. By asking residents to indicate on the map where they would like to see these amenities, you can get a better sense of where they are needed most.
Code Enforcement Tools
Organized systems for code enforcement help simplify your code enforcement efforts, both in the office and in the field. These tools can include features such as automated mobile inspections, custom mobile apps, and offline capabilities to help avoid disruptions to work when connectivity is poor.
Consider using code enforcement tools to improve your response to reports of zoning violations in your city. By automating the inspection process and tracking the status of each request, you can ensure that each report is addressed in a timely manner.
Virtual City Hall
A Virtual City Hall is a cloud-based platform that serves as a central online hub for all the information and transactions in your city. By providing citizens with easy access to government services and information, you can build trust among the community as a source of reliable and accountable leadership.
Most importantly, a Virtual City Hall provides a system that can incorporate all kinds of tools into a single place, so residents don't have to bounce around to different sites to make payments, learn about upcoming events, or contact relevant officials about a problem.
For example, you could use a Virtual City Hall to allow citizens to pay construction permit fees online or report issues (like potholes, graffiti, or broken streetlights), or notify them about upcoming festivals, town halls, or road closures.
Want to learn more about how a Virtual City Hall can create a digital one-stop shop for community engagement? Find out how the city of Pico Rivera did it in this case study.